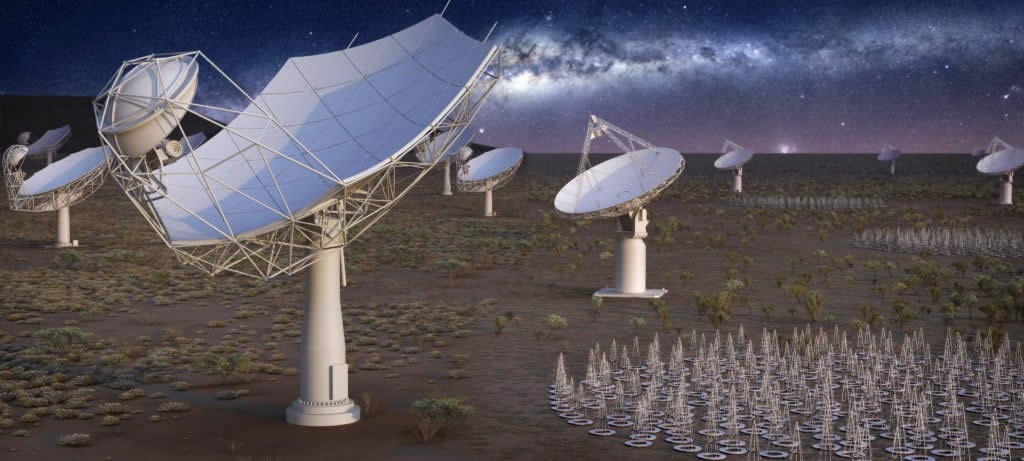 An artist's impression of the SKA at night: Credit SKA Organisation
AUT and the NZ SKA Alliance
Square Kilometre Array (SKA) Telescope - Exploring the Universe with the world's largest radio telescope
The Square Kilometre Array (SKA) is the World's largest radio telescope delivering fundamental advances in understanding our Universe. New Zealand SKA Alliance partners, led by AUT, jointly undertake research and design to deliver the unprecedented computing power behind the world's largest and most sensitive radio telescope.
The SKA is the World's largest mega-Science project of the next decade. It represents numerous firsts for New Zealand, being the World's biggest Big Data project, the largest Science project in which New Zealand has ever had substantial lead roles, and the largest New Zealand involvement in an international ICT collaboration. Once the receivers, infrastructure and supercomputing systems have been built scientists in the 10 member countries*, including New Zealand, will have access to the World's largest and most sensitive radio telescope. With it they will make fundamental advances in our understanding of the Universe over the next 50 years.
The New Zealand SKA Alliance consists of three universities: AUT, University of Auckland, Massey University; and companies including: Catalyst IT, Compucon NZ, and Open Parallel. The organisations jointly undertake research and design for the unprecedented computing required to make the SKA a reality. Established in 2013 and aiming for SKA phase 1 construction 2019-2025 it will be one of the longest and largest academic-industry collaborations in NZ.
*Australia, Canada, China, India, Italy, New Zealand, South Africa, Sweden, The Netherlands and the United Kingdom.