From Sensors to Sperm Sorting - Lighting up NZ's Economy with Lasers
Associate Professor Cather Simpson is a physicist and chemist at the University of Auckland, with specific expertise in lasers and photonics.
While photonics can be a very high-tech domain requiring a formidable understanding of fundamental science, Cather also has a deeply entrepreneurial streak that has led to significant commercial outcomes over the past 6 years.
In 2010 she founded the Photon Factory, which has attracted over $2.5m of commercial contracts. This has more recently led to the formation of two new startup ventures; Engender Technologies Ltd, which employs 6 staff and has attracted significant private investment, and Orbis Diagnostics Ltd, which has also attracted investment. Engender Technologies Ltd is a spin-off company commercialising the use of microfluidic and photonic technology to improve sorting of sperm by sex for the dairy industry.
Cather is the founding scientist and chief science officer. The new technology will improve both efficiency of sorting and performance of sex-sorted sperm by avoiding electric fields and reducing shear stress on the sperm membrane during processing.
Orbis Diagnostics Ltd is developing exciting new technology for the dairy industry – to carry out "point of cow" analyses of milk composition in the milking shed.
With such an impressive track record of commercial engagement, Cather demonstrates how University researchers can use cutting edge science to power business innovation and grow the economy.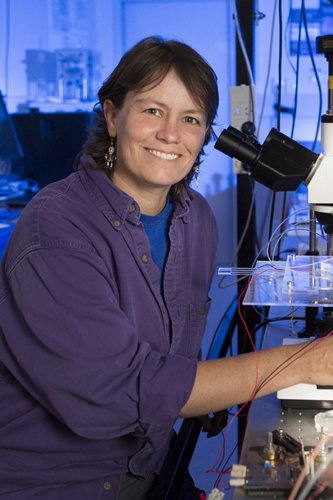 Associate Professor Cather Simpson