Ngaio Merrick takes over as KiwiNet chairperson from Hon Ruth Richardson who leaves legacy of success following $38 million KiwiNet PreSeed investment in research commercialisation
HAMILTON, NZ – 6 September, 2018 – The Kiwi Innovation Network today announced the appointment of a new Chairman and two new board members Will Barker and Dr Anne Barnett. Ngaio Merrick will take over the role of board chairman from Hon Ruth Richardson who is retiring as the foundation chairman leading KiwiNet to boost research commercialisation success in New Zealand.
The Kiwi Innovation Network (KiwiNet) comprises 16 universities and Crown Research Institutes and independent research organisations working together to increase the scale and impact of scientific and technology-based innovation in New Zealand.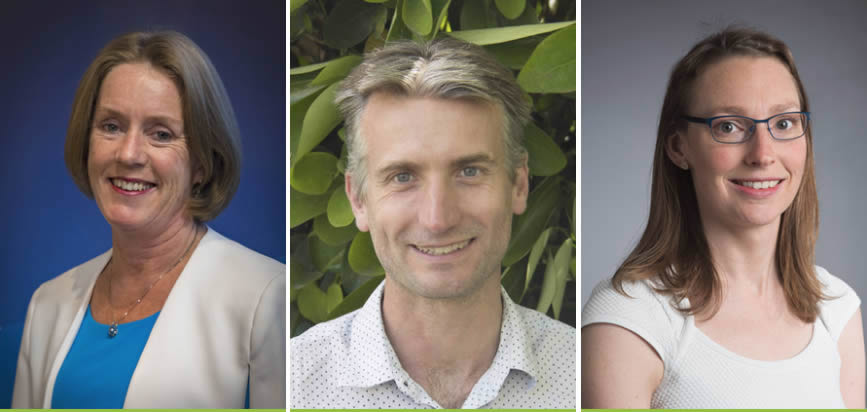 From Left: Ngaio Merrick, Will Barker & Dr Anne Barnett
KiwiNet's outgoing chairman, Hon Ruth Richardson, says KiwiNet has demonstrated the power of collaboration and has been instrumental in creating a thriving culture of researchers empowered to take their discoveries to the world.
" I'm incredibly proud to have been involved in KiwiNet from its formation in 2011 – with four partner organisations – to now partnering with the majority of publicly funded research organisations in New Zealand and representing over 7000 researchers. The KiwiNet team is totally dedicated to building commercialisation capability across New Zealand and is very ably led by CEO James Hutchinson. "
To date KiwiNet (including its forerunner Unicom, formed in 2008) has invested $38 million of PreSeed Accelerator Investment from MBIE, with business co-investing a further $20 million alongside this. Richardson says the commercial results speak for themselves with a seven-fold return on investment already.
"KiwiNet has backed over 950 projects involving hundreds of researchers from KiwiNet PreSeed pooling partners. From these projects we've already seen 383 commercial deals across 167 projects, including 39 start-up companies formed. This has generated $293 million total known revenue to New Zealand businesses and research organisations," she says.
Ngaio Merrick,an independent board member and the new chairman, says: "I'm incredibly excited to build on KiwiNet's solid foundation and successes to date, to scale further –we're hugely ambitious to realise the enormous opportunity before us to deliver significant returns to New Zealand".
There is no shortage of science, ideas, innovation or invention in our research organisations that we can tap into to create an avalanche of deep-tech ventures to drive a diverse and prosperous economy, says Merrick.
"With additional support KiwiNet will be able to touch an even greater percentage of researchers in our existing partnerships to amplify the number of licensing deals and spinouts. We will also continue to build our engagement with the private sector to form a community of capable, driven professionals delivering investible propositions from publicly funded research."
Merrick, who is Sir David Levene's investment portfolio manager, developed a passion for strategic thinking and innovation by combining her early career in science, sales and management of technologically advanced organisations with later leadership and development roles.
Dr Will Barker, Founder and CEO of Mint Innovation and a Director of the Health Research Council of New Zealand, has also been appointed as an independent director. Dr Barker has a wealth of experience in science and technology-based businesses, with a focus on commercialisation, securing value, and IP strategy.
Dr Anne Barnett, CEO of Viclink Ltd, replaces former Viclink CEO Geoff Todd as the KiwiNet board university representative. Prior to this role, Dr Barnett a physical scientist by training, spent four years growing and developing the IP and Commercialisation team within Viclink as General Manager of Commercialisation, resulting in a significant increase in the numbers of disclosures.
The new KiwiNet board members will join the current board which includes Plant & Food Research CEO David Hughes and investor and advisor Andrew Turnbull.
KiwiNet partner organisations include WaikatoLink, Plant & Food Research, Otago Innovation Ltd, Lincoln University, AUT Enterprises, AgResearch, University of Canterbury, Callaghan Innovation, Viclink, Landcare Research, Cawthron Institute, ESR, NIWA, Scion, Malaghan Institute, and GNS Science. Principal support is provided by the Ministry of Business, Innovation & Employment (MBIE).