Talented entrepreneurial scientists, engineers and CEOs presented their technologies and businesses to Hon James Shaw at an exclusive showcase with KiwiNet in Wellington today. The Minister for Climate Change, Associate Minister for the Environment explored  the early-stage New Zealand projects, products and companies which have the potential to move the scales of global climate justice.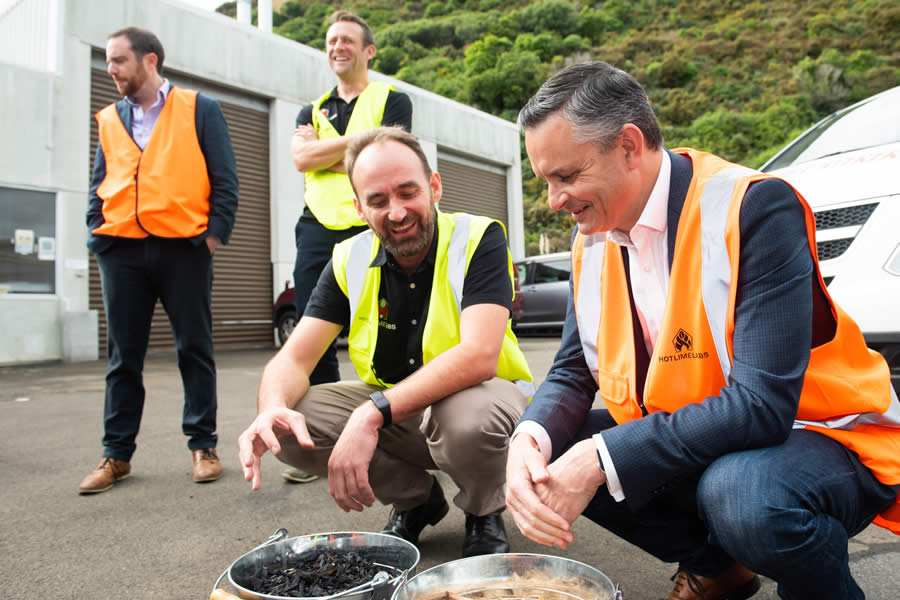 KiwiNet CEO, Dr James Hutchinson says the world is calling for more and better energy efficient, climate change technologies. "Many emerging deep tech technologies germinate in New Zealand public research institutions, but due to the high stakes and cost of developing this science only a small few make it to the point of private investment, where they can become tangible products or services and have significant impact. 
"There is so much potential for greatness – it's important to share the hope and possibilities that these amazing technologies can bring to our tough national and global problems. It is also critical to find the best way forward, so we can move more of these technologies out of the lab and successfully into real world application. Although that is easier said than done."
Dr Vlatko Materic, CEO of Hot Lime Labs, who partnered with KiwiNet to host the event, is one entrepreneurial scientist who has moved technology from the lab to the marketplace. Vlatko says deep tech products and companies require serious capital to make it to market. There is funding accessible to early-stage start-ups, but not those who are almost market ready.
Hot Lime Labs, founded in 2017, has developed carbon capture technology for the commercial greenhouse industry. The technology has the potential to reduce the industry's dependence on fossil fuels and overall greenhouse gas emissions.
"Our vision is to help transition 50 percent of the global greenhouse industry to renewable energy in the next 30 years leading to a reduction in greenhouse gas emissions by 120 million ton per annum —  the equivalent of 1.5 times New Zealand's yearly emissions," says Vlatko.
"With backing to expand faster we could achieve this goal within 20 years."
Minister Shaw spoke with the team at Hot Lime Labs, as well as meeting with Dr Franck Natali from Liquium, a company developing a novel clean ammonia technology arising from Victoria, University of Wellington; Dr Mark Cleaver and Dr Sean McKay who are working on an Metal Organic Frameworks research project at Massey University; and Chris Bumby and Rob Badcock from Robinson Research – an Institute within the University of Victoria Wellington which is pioneering world-leading research on superconductivity.
The showcase was also an opportunity to introduce Minister Shaw to the KiwiNet Emerging Innovator Programme, a successful initiative providing targeted support to early-stage career scientists who will become the future innovators of New Zealand.
Presenters Dr Sean McKay and Dr Vlatko Materic were both alumni from the Emerging Innovator programme. Vlatko is one of KiwiNet's first-ever Emerging Innovators and was recipient of the Norman Barry Breakthrough Innovator Award at the KiwiNet Research Commercialisation Awards in 2018. Also present was Emerging Innovator alumnus Dr Jerome Leveneur from GNS whose b.spkl hydrogen catalyst innovation has been accepted into the Creative HQ Climate Accelerator programme. Dr Shalini Divya, recipient of the 2021 KiwiNet Breakthrough Innovator Award for her work on a new aluminium-ion battery technology, offering a safer, sustainable, cost-effective alternative for grid storage and portable applications was unable to make the event and sent apologies.