Crown Research Institute Landcare Research has become the tenth member of the Kiwi Innovation Network (KiwiNet), a consortium of New Zealand universities and crown research institutes collaborating on research commercialisation. KiwiNet member organisations encompass a large proportion of New Zealand's science capability with around 6,600 research staff and 130 commercialisation staff. The addition of Landcare Research has boosted the collective research spend of KiwiNet members to close to $600 million.
Landcare Research joins KiwiNet foundation members Plant & Food Research, Otago Innovation Ltd, Lincoln University, AUT Enterprises, AgResearch, University of Canterbury, Industrial Research Ltd, Viclink and WaikatoLink. Support is also provided by the Science + Innovation Group within the Ministry of Business, Innovation & Employment (MBIE).
Hon Ruth Richardson, Chairman of KiwiNet says, "We're delighted to welcome Landcare Research as a KiwiNet member. As a member they will gain visibility into the research and technologies in other member organisations and KiwiNet will gain value expertise and capability, particularly in the environmental area. This will generate more mutually beneficial opportunities for all members as they work to turn technologies into real returns for the New Zealand economy."
Landcare Research chief executive Richard Gordon says, "We are very pleased to become a member of KiwiNet. Our core purpose is to drive innovation in environmental management. To do this diverse skills are needed to ensure those innovations are developed effectively and transferred to organisations that need them. KiwiNet will greatly assist us in this endeavour as it will complement and enhance our skills in technology transfer."
Dr Peter John, Director of Research & Commercialisation at Lincoln University, a KiwiNet member says, "The addition of Landcare Research adds to the pool of networks and expertise KiwiNet members can all tap into. KiwiNet uniquely provides the transparency and trust which allows us to adopt a collective approach to scientific and technology based innovation. This approach improves the chances of success for technologies and ventures."
As a member Landcare Research will regularly exchange project and research information with other KiwiNet members to assist technology transfer activities. Landcare Research will also take part in regular commercialisation forums and other knowledge sharing events designed to boost the commercialisation capability of members.
KiwiNet's collaborative commercialisation model enables members to share resources, specialist expertise, networks, best practise, IP and experience to create more commercially viable IP and start-ups from research based ventures.
Richard Gordon says, "Through KiwiNet we'll not only improve our commercialisation capability but we'll be able to share vital industry and investment networks that will help us take research and innovations to the marketplace."
KiwiNet was formed in July 2011 to increase the scale and impact of research commercialisation in New Zealand by acting as a hub for commercialisation. KiwiNet is successfully leveraging the combined capability of member organisations to increase the flow of ideas and successes which will achieve greater commercial outcomes for New Zealand.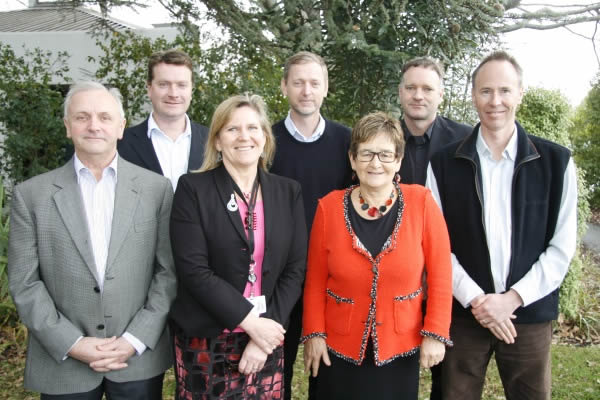 KiwiNet board members with Landcare Research representatives. Left to right: Dr Peter John (Director of Research & Commercialisation, Lincoln University), Andrew Turnbull (independent director), Dr Libby Harrison (General Manager Development, Landcare Research), Dave Hughes (Group General Manager Commercial, Plant & Food Research), Hon Ruth Richardson (KiwiNet chair elect), Mark Stuart (independent director) and Graeme Anderson (Business Development Facilitator, Landcare Research).
For further information please contact:
Sandra Lukey
Shine Group (PR for KiwiNet)
Tel: +64 21 2262 858
Email: sandra@shinegroup.co.nz
Andrew Trevelyan
Communication & Marketing Manager
Landcare Research
Tel: +64 3 321 9720; Mob: 027 490 9019
Email: TrevelyanA@landcareresearch.co.nz