Scientific breakthroughs at the University of Canterbury backed by KiwiNet, a collaboration focused on research commercialisation, are resulting in spin-out companies with award winning innovations. A wall climbing robot and battery technology for the green car market are two of the recently awarded innovations from University of Canterbury spinout companies.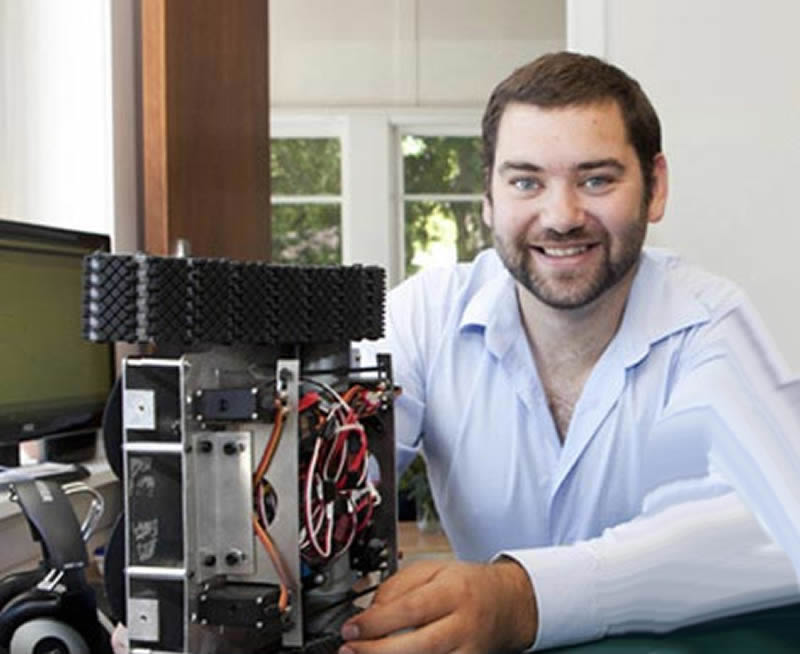 Invert Robotics was named the winner of the Ministry of Science & Innovation Start-up Award at the recent HiTech Awards for its remote controlled wall-climbing robot. The robotic platforms allow inspection and repair work on industrial equipment to be carried out in risky environments such as milk powder silos or driers which may contain toxic gases. The innovation draws on research developments in remote robotic inspection technology at the University of Canterbury which is being commercialised by its Research & Innovation unit, in conjunction with powerHouse Ventures.
The University of Canterbury is a member of KiwiNet which comprises six universities and three crown research institutes working together to better leverage the combined capability of New Zealand research organisations to achieve greater commercial outcomes for the country.
Dr Nigel Johnson, Director of Research & Innovation at the University of Canterbury, says, "KiwiNet has really helped us move our research into the commercial space and our award-winning innovations are really testament to that support. We're also seeing the effects of this support with our increasing flow of ideas which will lead to our next wave of innovations."
Dr Johnson says KiwiNet has not only provided critical investment through the Ministry of Science and Innovation's PreSeed Accelerator Fund, the investment committee has also provided invaluable guidance on commercialisation pathways. He says that being able to tap into the hard-won knowledge and networks from other KiwiNet members has also been enormously valuable.
"Through KiwiNet we've been able to really stimulate input into our portfolio. By employing PreSeed funds to do the important early work we've been able to explore the commercial potential of new ideas. This early work is crucial as it allows us to find the market opportunities that best exploit the scientific breakthrough and develop the technology for that application," he says.
Invert Robotics received an investment of $118,000 from the Ministry of Science and Innovation's Pre Seed Fund via KiwiNet, with matching funding from the University of Canterbury and powerHouse Ventures. The funding was used to develop robots for a broader range of applications than was previously possible
Auto battery innovator ArcActive, another recent award winning University of Canterbury spin-out company, won the CleanEquity 2012 conference award for Excellence in the Field of Environmental Technology Research in Monaco in April. Early in its commercialisation, as a University of Canterbury project, it received support via a $225,000 KiwiNet PreSeed investment from Ministry of Science and Innovation to prove the technology. This early support was critical in identifying electrodes for batteries as a key application for the technology.
As ArcActive continued to develop its battery technology for the start/stop auto market follow-on investment was provided by investors and the Ministry of Science and Innovation. The company's award in April coincided with its public launch which followed several years operating in stealth mode.
"We need to celebrate these successes and keep working on finding the next wave of success stories. These successes are the result of a lot of hard work put in by many people over time," says Dr Johnson.
Andrew Turnbull, a KiwiNet Investment Committee member, says, "Universities and Crown Research Institutes are a rich source of research breakthroughs and the key is to not just take a great idea and develop it into a technology, but to develop something that is valuable that industry wants to be part of.
"KiwiNet is creating more good news stories for commercialisation in New Zealand. Along with successes like Invert Robotics and ArcActive we're seeing an increasing flow of ideas and successes from other KiwiNet members.
"Collectively KiwiNet members represent over half a billion dollars of research spend and by working together we are demonstrating that we can increase the scale and impact of scientific and technology based innovation in New Zealand," says Mr Turnbull.
KiwiNet was launched in July 2011 to empower those involved in research commercialisation by helping them access the tools, connections, investment and support they need. Founding KiwiNet members include WaikatoLink, Plant & Food Research, Otago Innovation Ltd, Lincoln University, AUT Enterprises, AgResearch, University of Canterbury, Industrial Research Ltd and Viclink. Support is also provided by the Ministry of Science and Innovation.
For further information please contact:
Sandra Lukey
Shine Group
Phone: (03) 374 6753; Cell: +64 21 2262 858
Email: sandra@shinegroup.co.nz