Winners of the second annual KiwiNet Research Commercialisation Awards designed to celebrate success within New Zealand's universities and Crown Research Institutes were announced in Auckland last night. Around 250 people attended the Awards reception to bring together the people and technologies changing the research commercialisation landscape in New Zealand.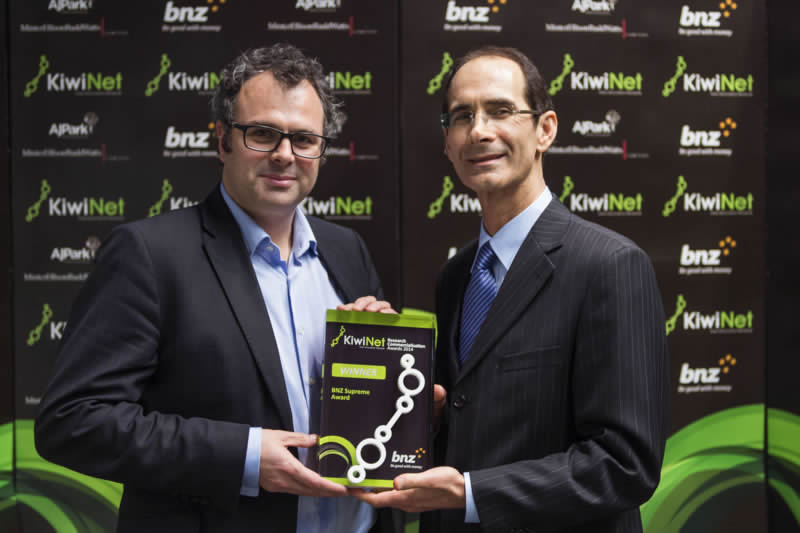 The 2014 KiwiNet Research Commercialisation Awards winners are:
Commercial Deal Award: Kifunensine, Glycosyn - Callaghan Innovation
AJ Park Commercialisation Collaboration Award: Titanium Technologies New Zealand (TiTeNZ) - a collaboration between University of Waikato, Callaghan Innovation, GNS Science, University of Auckland, the Titanium Industry Development Association (TIDA) and a number of industry partners
Researcher Entrepreneur Award: Alistair Jerrett, Seafood Technologies, Plant & Food Research
MinterEllisonRuddWatts Research and Business Partnership Award: University of Canterbury and Tait Communications - Wireless Network Partnership
People's Choice Award: Plant & Food Research and Precision Seafood Harvesting
BNZ Supreme Award: University of Canterbury and Tait Communications - Wireless Network Partnership (Special mention: Plant & Food Research and Precision Seafood Harvesting)
Hon Ruth Richardson the Chairman of KiwiNet says, "When we look at the at the finalists and winners at the KiwiNet Awards here today we see the sort of success we need to advance New Zealand's ambition to become a globally recognised leader in research commercialisation. It really shows that now is the time in the connectivity revolution to commercialise ideas."
Lead KiwiNet Awards judge and KiwiNet Investment Committee member Dr Andrew Kelly, Executive Director at BioPacificVentures says, "This year the awards demonstrated the incredible variety of partnerships from unique one-to -one partnerships to larger collaborations. These have all hugely benefited New Zealand companies and will really move the needle on our export earnings."
Dr Kelly was joined on the judging panel by professional director and Angel Association Chairman Dr Ray Thomson, and director and executive advisor Helen Robinson, the founding CEO of TZ1, and Sharon Hunter, one of New Zealand's best-known business women and Director of Hunter Powell Investment Partners.
Dr Bram Smith, General Manager of KiwiNet says, "The 2014 awards have revealed a fresh wave of exciting innovations with global potential emerging from New Zealand's research organisations. The awards celebrate the entrepreneurial spirit of those who strive to bridge the gap between research excellence and innovative business. By celebrating today's innovation game changers we hope to inspire the next generation of researchers and entrepreneurs."
The Awards are the pinnacle of KiwiNet activities designed to build awareness and inspire research commercialisation success. Sponsorship support is provided by BNZ, MinterEllisonRuddWatts , AJ Park, MBIE and Sciencelens photography.
BNZ head of commercial and growth markets, Ben Fahey says, "Today's winners all share an ability to identify a specific market need, and match it with a solution that is innovative, scalable and commercial."
"Celebrating and sharing their success enables more New Zealanders to translate our national can-do attitude into successful businesses."
Paul Stocks, Deputy Chief Executive of MBIE's Science, Skills and Innovation Group, says "An important part of growing our economy is commercialising the ideas of New Zealand's best and brightest researchers. The individuals, teams and organisations being recognised today at the KiwiNet Awards should inspire the innovative spirit in all New Zealanders."