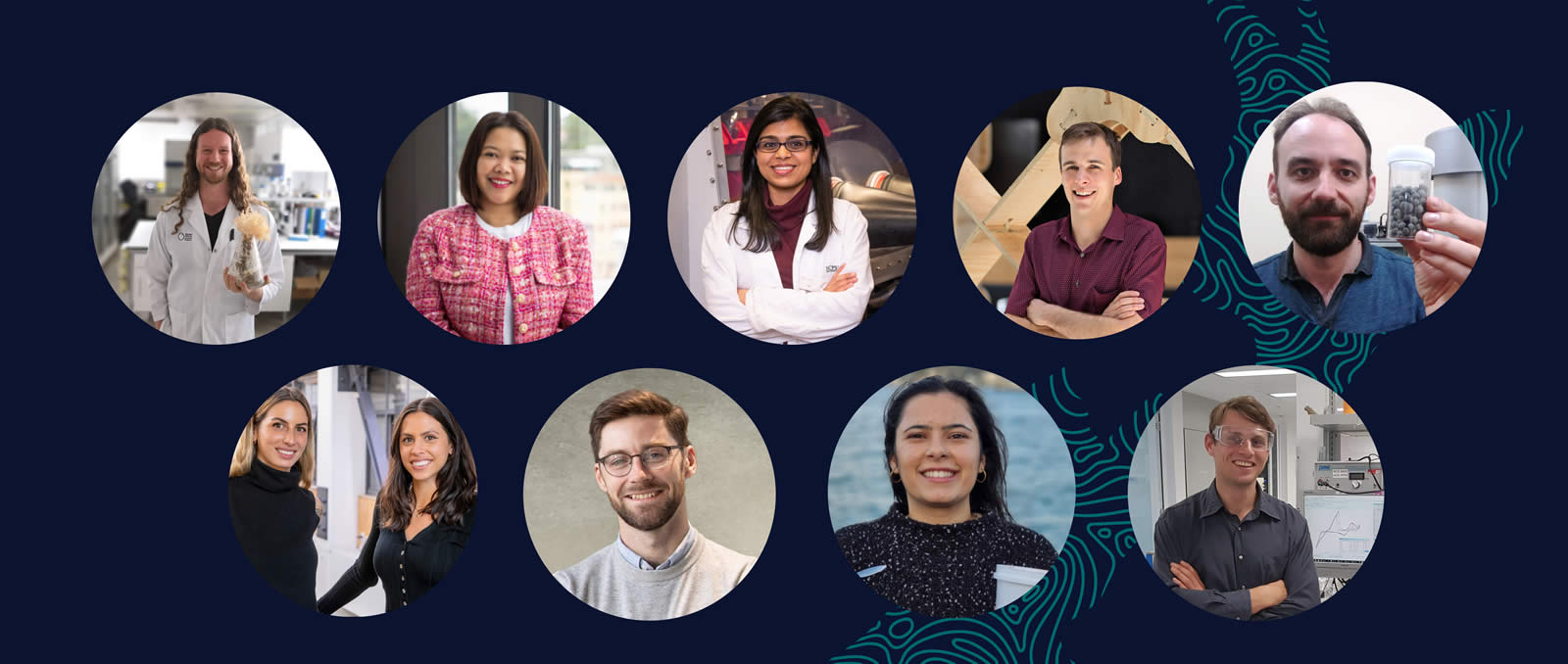 The KiwiNet Emerging Innovator Programme has reached a significant milestone of supporting 100 early-career researchers to commercialise their research breakthroughs into investible products and services that can make a difference in the world.
Through the programme, KiwiNet supports researchers from New Zealand's Universities and other publicly funded research institutes to apply an entrepreneurial lens to their work and navigate commercialisation – providing funding, professional development, workshops and mentor support.
Since the programme began, 16 new ventures have been created by Emerging Innovator graduates, with over $14m in follow-on investment secured by these projects. KiwiNet has also provided almost $4m in PreSeed funding to Emerging Innovators to progress their research further and become 'investor ready.'
The cohort of 100 graduates includes research projects that range from new breast cancer screening technology to sustainable building technologies and the world's first 'camera for smell' using biological sensors. KiwiNet's entrepreneurial research programme has also sparked alternate career pathways in science commercialisation and investment for some graduates.
Seumas McCroskery, Entrepreneurship Lead at KiwiNet, says it's been exciting to witness the transformative power of KiwiNet's Emerging Innovator Programme in creating 'science superheroes' who are taking Aotearoa's innovative research to the world.
"We are extremely proud to hit the milestone of 100 Emerging Innovators and to see the continued impact of our programme in fostering entrepreneurial culture and commercialisation in New Zealand's research community. From here, the opportunity is to scale the programme exponentially to support more research innovators to turn their ideas into reality faster. We have big plans."
Graduates of the KiwiNet Emerging Innovator Programme include:
Jessica Fitzjohn, new breast screening tech – KiwiNet Emerging Innovator #100, is a researcher from the University of Canterbury | Te Whare Wānanga o Waitaha who is working to develop a non-invasive breast cancer screening technology called Digital Image Elasto Tomography (DIET), a portable, radiation-free, and compression-free alternative to X-ray mammography.

Jessica Fitzjohn says the programme has enabled her to focus on market validation. "Improving breast screening equity and outcomes for all women using DIET is my main goal, and KiwiNet has helped bring this possibility closer. It is an honour to be the 100th graduate."
Dr Andrew Králíček, Scentian Bio – KiwiNet Emerging Innovator #1, participated in the programme in 2016 while working as a researcher at Plant & Food Research. He is now the Founder and CTO of biotech start-up Scentian Bio which is developing a novel technology for the world's first 'camera for smell' by combining insect biology with nanotechnology. KiwiNet also provided $277,000 Pre-Seed funding for early technology commercialisation. The formation of Scentian Bio followed in 2021, and the company is growing fast.

Andrew Králíček credits the Emerging Innovator Programme with helping him firstly secure the IP for his biological sensor and providing him with knowledge, networks, and support to give him the confidence to embark on a commercialisation journey to turn his idea into a company.

"I have been on an incredible journey because of KiwiNet's Emerging Innovator programme – it gave me the courage and support to jump into the entrepreneurial world, which would have been too much to contemplate otherwise. Without this sort of support, ideas stay in the lab. The opportunity to change the world was worth the risk, and the programme opened doors that would not have opened otherwise, such as to investors and the Bill & Melinda Gates Foundation, which recently awarded us a USD 1.7M grant."
Dr Brendan Darby, Marama Labs – KiwiNet Emerging Innovator #13, is the co-founder and CEO of Marama Labs, founded in 2019, spun out from research at Te Herenga Waka—Victoria University of Wellington to commercialise CloudSpec, a spectroscopy device that can accurately test liquids. Winemakers, the first target market for the technology, use it to measure, with specificity, how a wine might taste to allow them to control the style of wines.

Brendan Darby says, "The Emerging Innovator programme was the first piece of the puzzle for Marama to get our technology out of the lab and into the real world. We would not be the global company we are without this programme. It was instrumental in establishing our beachhead market in wine analysis, and we've seen significant growth in the US recently. We're now raising capital to fund global wine market growth, manufacturing scale-up, team expansion and bring our first biopharma product to market."
Jonathan Ring, Zincovery - KiwiNet Emerging Innovator #44, is the founder and CEO of the University of Canterbury | Te Whare Wānanga o Waitaha spin-out company decarbonising zinc recycling. He participated in the programme in 2019. Recently, Zincovery has achieved some significant milestones, including commissioning its pilot plant, and is working to secure its first commercial contracts.

Jonathan Ring says, "The programme gave me a taste of being an entrepreneur – which I love. I validated the market and learned about building a business, which led to the company's formation. It was so valuable to have a mentor who could show me how to put together a proposition for investment, and KiwiNet introduced me to our lead investor. So, Zincovery might not have happened without the Emerging Innovator Programme; I'd highly recommend it to other researchers and engineers."
Dr Lari Dkhar, NZ Growth Capital Partners (NZGCP) - KiwiNet Emerging Innovator #49, participated in the programme as a doctoral researcher at AUT investigating intranasal drug delivery systems and the market pathway for medical devices. The programme sparked an interest in commercialisation, leading to roles at AUT Ventures and to NZGCP as a Senior Investment Analyst.

Dr Dkhar says, "Understanding what it takes for researchers to commercialise biomedical products and get them to market and how investors look at biotech deals – allowed me to pivot to the other side of the table. From an investor perspective, I believe the programme has also helped create a pipeline of investable technology. Emerging Innovators we see as potential investees stand out as they've done market validation and know what they need to do to commercialise their technology. Marama Labs, one of our portfolio companies, is a good example."
Dr Shalini Divya, TasmanIon - KiwiNet Emerging Innovator #60, is the co-founder and CEO of TasmanIon, a Victoria University of Wellington spin-out company developing new aluminium-ion battery technologies suited for stationary storage and portable applications. Dr Divya says, "The Emerging Innovator Programme was transformational for me, to say the least, and the Emerging Innovator community is always extremely supportive - they offer help when things are rough and celebrate with you when it gets better."
Mrinali Kumar, EatKinda - KiwiNet Emerging Innovator #89, the CEO of Eatkinda, wants to create change in the world one scoop of cauliflower ice cream at a time. Mrinali Kumar co-founded the start-up while a student at Massey University and took part in KiwiNet's Emerging Innovator Programme in 2021. Today, EatKinda is available via online supermarket Supie and will be relaunching into Hell Pizza next, with other supermarkets to follow this summer.
Upskilling future Kiwi science entrepreneurs
KiwiNet's Seumas McCroskery says science and research have the power to solve some of our nation's biggest problems. "We need more great innovators turning their ideas into reality more quickly. It's programmes like this that can help them do just that. The programme has effectively done its job and delivered results over time. It has also created strong and engaged alums who advocate the importance of taking ideas out of the lab and into the world and helping to grow a culture of entrepreneurship across Aotearoa."
Applicants for KiwiNet's Emerging Innovator Programme are nominated by their research organisation, and numbers have grown significantly in the past years. "It's fantastic to have support from the research community to actively upskill our up-and-coming science entrepreneurs and help them to take on new challenges. With 100 graduates, we're now at an inflexion point; our challenge is scaling the programme to amplify the impact."
About the KiwiNet Emerging Innovator Programme
KiwiNet's Emerging Innovator Programme provides targeted support to scientists from the public research community who want to develop their commercialisation/entrepreneurship expertise and become the future innovators of New Zealand.
The Emerging Innovator Programme provides funding and mentorship to enable scientists to build industry connections and demonstrate a proof-of-principle of a disruptive new invention. To be accepted into the programme, a scientist must demonstrate a clever new idea and a willingness to work closely with industry and/or commercial mentors as they develop a prototype. The aim of the programme is to have more scientists with disruptive new ideas, working alongside businesses to solve industry challenges.
For further information please contact:
Sandra Lukey
Shine Group (PR for KiwiNet)
Phone: +64 21 2262 858
Email: sandra@shinegroup.co.nz