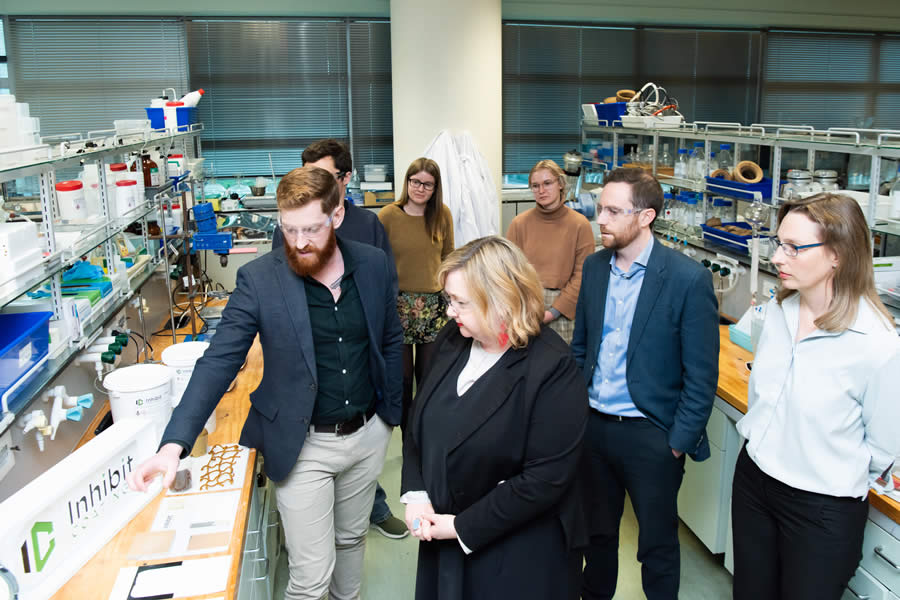 Entrepreneurial scientists showcased their cutting-edge technologies providing tangible examples of the power of New Zealand's deep tech discoveries to transform lives and change the world.
The Minister, holding portfolios for Research, Science and Innovation; Energy and Resources, and Housing, viewed game-changing technological advancements from the working labs of Liquium (Paul Geraghty, Franck Natali) and Inhibit Coatings (Eldon Tate) and the constructed framing system of Gerard Finch at XFrame™ Pty Ltd.  Each of these projects and start-ups represent a greater pool of deep tech research and innovation and a massive investment in and by talented people across New Zealand's public research organisations.
Following the site visits, the Minister addressed entrepreneurial undergraduate and post graduate students, KiwiNet Emerging Innovators, commercialisation professionals and MBIE representatives. Minister Woods commended the group as the "drivers of change" who would "solve many of the challenges that New Zealand will face… as well as [tackling] rewarding opportunities to protect the environment and social wellbeing and transition us to carbon neutrality".
Minister Woods expressed a wish for New Zealand to be recognised as "a global hub for innovation and a world-class generator of new ideas for a sustainable and productive future" and acknowledged the critical gap bridged by KiwiNet between public research organisations and the private sector saying, "[KiwiNet] is also helping this country move further in being a global technology centre and a more dynamic innovative economy thanks to their focus on novel thinking combined with an entrepreneurial spark."