Dr John Abrahamson, the founding father of ArcActive, a company commercialising innovative new technology for 'Stop/Start' batteries in modern cars, has been named as a finalist in the Researcher Entrepreneur category in the inaugural KiwiNet Research Commercialisation Awards.
The discovery of carbon nanotubes in the 1970s by Dr John Abrahamson, Associate Professor, Department of Chemical and Process Engineering at University of Canterbury could help cut fuel use almost 40 years on as the world embarks on a green car revolution. Specially treated carbon fabric is the key to the success of the technology for use in electrodes in new battery technology being developed for micro hybrid cars; and it's caught the eye of auto and battery makers worldwide.
Dr Abrahamson says, "I feel that any acknowledgement I get is very much the result of a team effort. Over the years I've had great support from the University, my department, and some wonderful research students that have worked on the project from all over the world. Commercialisation was really made possible by the involvement of UC Research & Innovation, early shareholders and Stuart McKenzie, who is now the company's CEO and has been instrumental in pulling out all stops. At ArcActive I'm also very happy to be surrounded by a group of very able younger people."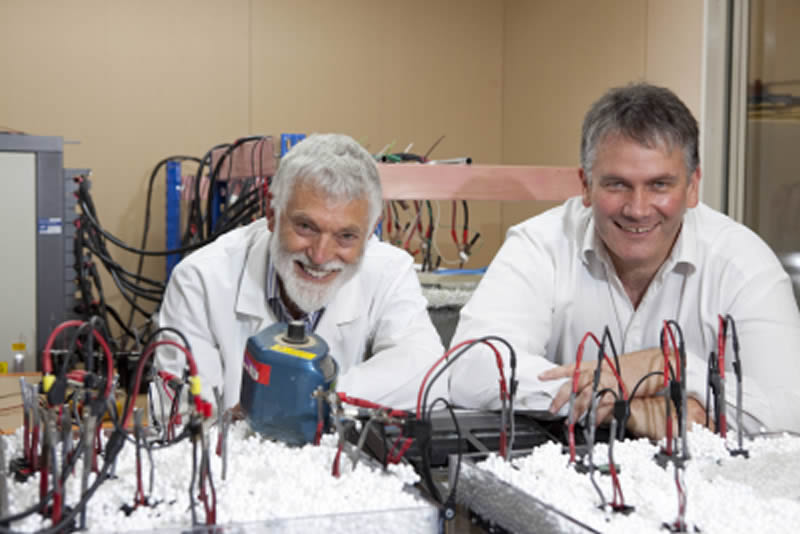 ArcActive first unveiled its smart battery technology last year at the 2012 Clean Equity conference in Monaco, where the company won the award for Excellence in the Environmental Technology Research category and attracted attention from a host of potential international investors and partners.
The company's first product, now known and patented as AACarbon, is a lead carbon battery for micro-hybrid cars. Unlike conventional batteries which wear out in a matter of weeks with the new generation of micro-hybrid cars that stop instead of idling - saving fuel and producing lower emissions - ArcActive's batteries are quicker and easier to recharge, have a long life and are cost effective to produce.
The technology has had a long commercialisation journey. In the 2000s many applications were then identified for the carbon fabric including X-ray tubes and cathodes for backlights, lamps. None was deemed commercially viable.
2009 was a pivotal year for technology commercialisation by UC's Research & Innovation, whose role is to facilitate and support all stages of research and innovation development. The project received support via a $225,000 KiwiNet PreSeed investment from MBIE to prove the technology.
This funding support and expertise from fellow KiwiNet members, a consortium of Universities and Crown Research Institutes working on research commercialisation, was critical in identifying negative electrodes for batteries as the most promising application. Carmakers were searching for new technologies and the market represented a great commercial opportunity.
According to Abrahamson the company would never have got off the ground let alone have reached this milestone without the support of the University, its founding shareholders and PreSeed funding from KiwiNet.
"That early support and funding was really critical. We simply wouldn't exist without it. There's so much uncertainty in the very early stages of a new piece of technology's life so very few organisations are willing to take a punt on it. Without this early support we would never have been able to investigate the technology or then attract other shareholders or grants," he says.
Dr Nigel Johnson, Director, Research & Innovation says, "Researchers are often a quiet powerhouse, so it's great to see John being recognised for his enormous contribution to the project. Since his initial finding John has continued to contribute visionary insights. We're very pleased to have provided support along the way and we applaud the role the University played, backing John's world class research even before it showed commercial promise."
In 2012 ArcActive bought out its founding shareholders, including the University of Canterbury. Dr Abrahamson is now the CTO of ArcActive and continues to push the limits of his technology, which has wide implications for the renewable energy and energy storage industries, into new applications to reach a vast range of markets.
This Researcher Entrepreneur Award is for a researcher who has made outstanding contributions to business innovation or has created innovative businesses in New Zealand through technology licencing, start-up creation or by providing expertise to support business innovation.
The other finalists in the category, both nominated by UniServices, are Professor John Boys and Associate Professor Grant Covic, Electrical and Computer Engineering Department, Auckland University and Professors William Denny and William Wilson, Co-Directors of Auckland Cancer Society Research Centre (ACSRC) - Auckland University.
The winners of the inaugural KiwiNet Research Commercialisation Awards, designed to celebrate success within New Zealand's research organisations, will be announced at an awards function on 19th June in Auckland.