Hamilton-based Aduro Biopolymers, a natural resource materials and biopolymer company, today announced it has secured investment from Wallace Corporation, by volume New Zealand's largest service rendering business, processing a variety of co-products from the meat processing industry. Aduro Biopolymers is a spin-out company formed by WaikatoLink Limited, the technology transfer office of the University of Waikato. The company was formed to develop and market materials and biopolymers for use in the manufacturing sector. The company is currently developing a novel material based on an unconventional idea; turning bloodmeal into bioplastic.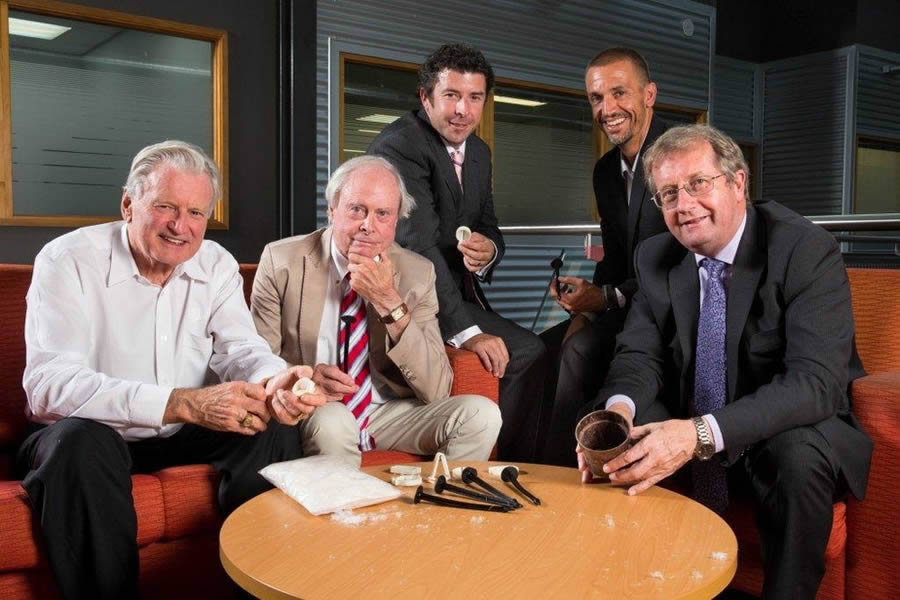 Sir William Gallagher (Director, WaikatoLink), Sir James Wallace (Chairman, Wallace Corporation), Duncan Mackintosh (CEO, WaikatoLink), Dr Johan Verbeek (University of Waikato researcher) and Professor Roy Crawford (Vice-Chancellor, University of Waikato) with Novatein bioplastic from Aduro Biopolymers.
"Aduro Biopolymers has developed an innovative method for the production of bioplastics made from by-products of the red meat and poultry industries," says Graham Shortland, CEO of Wallace Corporation. "We're always looking for innovative ways to turn new and existing raw materials into higher value products in order to sustainably deliver superior returns to our meat processing partners."
"We've been very impressed by the team at WaikatoLink and their track record in commercialisation as well as the quality of research from the University of Waikato. This investment is part of a broader strategy and the start of a partnership that will allow us to bring new research from the University into our business."
Duncan Mackintosh, the Chief Executive of WaikatoLink says, "It's fantastic to secure investment at such a key point in the company's development. We're also delighted to have Sir James Wallace join the Aduro board. Aduro Biopolymers is a great example of an early stage innovative company based on publically funded research. It's encouraging to see a successful established company like Wallace Corporation value this innovation and its commercial promise as part of its strategy. This partnership will help the success of Aduro and open up new opportunities too."
Aduro Polymers aim is to develop environmentally conscious materials for the manufacturing and construction sectors. The company's first product is Novatein, a bioplastic that will be price competitive with petrochemical plastics. The global plastics market is worth over a trillion dollars and currently bioplastics represent 5-10% of that market, with a compounded annual growth rate of almost 20%.
Darren Harpur, Acting CEO of Aduro Biopolymers says, "The manufacturing process for Novatein is quite simple. This means the capital costs required to commence manufacture will be relatively low and should enable the cost effective production of Novatein. There is a growing demand for environmentally friendly plastics but they need to be at the right price point for consumers. We are confident we can achieve this price point with Novatein."
The science behind Novatein originated and continues to be developed by the University of Waikato's Dr Johan Verbeek and his team, where bloodmeal produced by the red meat industry is processed into granules which have been modified and optimised to suit a chosen product's attributes. The granules can then be manufactured into injection moulded or extruded products using industry standard equipment. Novatein has been in development since 2007 and has received investment support from KiwiNet's PreSeed Accelerator Fund from the Ministry of Science and Innovation.
Harpur says, "As consumers, we're all aware of the effects of plastics on the environment. Novatein will help solve some of those problems by introducing a bioplastic made from naturally occurring materials that on their own quickly degrade in the environment. We think that this aspect combined with a simple manufacturing process will enable our technology to be adopted quite rapidly."
University of Waikato Vice-Chancellor Professor Roy Crawford says the work done by Dr Verbeek and his team has garnered much interest as it has developed and it is pleasing to see the investment by Wallace Corporation. "At the University of Waikato we promote the delivery of world-changing and relevant research. In this case we have research that takes low value co-product of the red meat industry and creates a biodegradable plastic. I consider that highly relevant to our world and is an excellent example of research that is making a difference."
Aduro Biopolymers is working with commercial partners in New Zealand and Australia to develop Novatein for a range of product lines. The company is also looking to work with New Zealand research organisations to develop new and novel materials from other natural resource polymers.
For further information please contact:
Sandra Lukey
Shine Group
Phone: (03) 374 6753; Cell: +64 21 2262 858
Email: sandra@shinegroup.co.nz